Shake well. Close your eyes, position spray 6 inches away from face, and mist. Follow with your facial moisturizer.
Lavandula Angustifolia (Lavender) hydrosol*, Melaleuca Alternifolia (Tea Tree) hydrosol*, Aloysia Citriodora (Lemon Verbena) hydrosol*, Aloe Barbadensis leaf juice*, Camellia Sinensis (Green Tea) leaf extract*, Ganoderma Lucidum (Reishi Mushroom) extract*, Glycyrrhiza Glabra (Licorice) root extract*, Chamomilla Recutita (Matricaria) flower extract*, Propolis, Sodium Chloride (Pink Himalayan Salts), Lactobacillus Ferment, Olea Europaea (Olive) leaf extract*, Rosmarinus Officinalis CO2 (Rosemary) extract*. Proprietary blend of organic essential oils.
*Certified Organic
Enessa.com
Tea Tree Hydra-Clear-Travel
Refreshing Active Herbal Toner
This clarifying toner contains phytonutrients that cleanse and detoxify blemished prone skin.
Tea Tree and Lemon Verbena hydrosols combat excess oil, remove buildup and impurities. Enriched with antioxidants, Reishi Mushroom and Licorice extracts are known to brighten and balance skin complexion.
Propolis and Chamomile extracts are soothing and protect against environmental stress. Your skin will feel calm, nourished, and revitalized.
1 fl. oz/30ml
Helps With My Breakouts
"This toner has been so helpful with my acne prone skin. I used to breakout so easily and since I've started using the Tea Tree Hydra-Clear, my skin is not as oily and I get less blemishes."
- Kayla
BETTER TOGETHER
Balancing Moisturizer for Oily Skin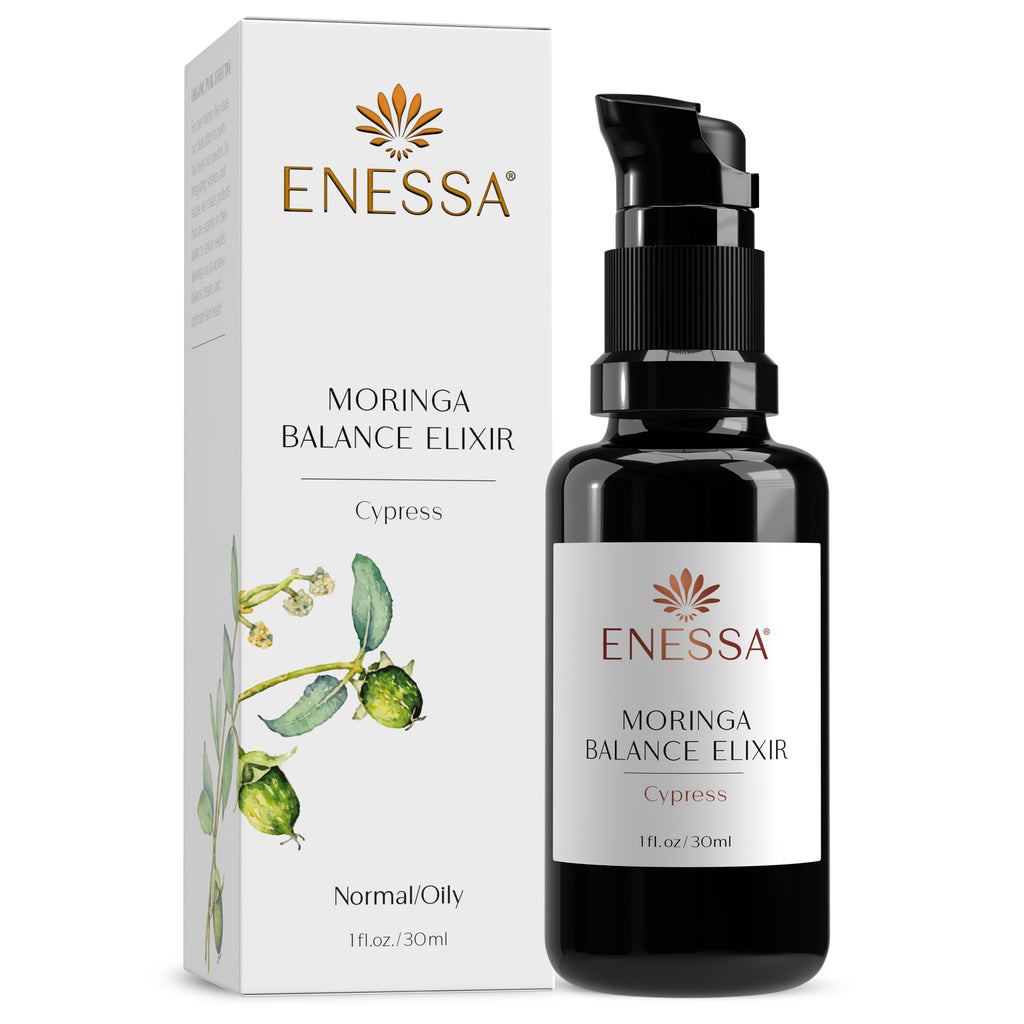 Moringa Balance Elixir
REVIEWS (4)